On TV we can see confident, charismatic politicians, superheroes defeating villains and singers who make their audience fall in trance. They all smile at us with an enviable, perfect set of teeth.
How is it possible? Is it inevitable that every successful person will amaze us with their bright, shining teeth?
Of course, there are lucky people who got regular, beautiful teeth naturally, but in most cases the desired smile is only available with the help of qualified dentists.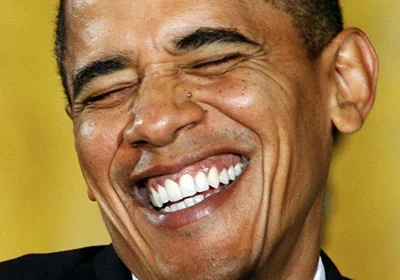 The first well-known politician who recognized that his confident presence needs to go hand in hand with an impeccable set of teeth was George Washington. Later on, numerous successful politicians reckoned it was important to make their teeth perfect, such as Hillary Clinton, Barack Obama and Donald Trump.
The confident stage presence and perfect appearance of performers greatly depends their impeccable, shining smile. Many celebrities, like the style idol Audrey Hepburn, Julia Roberts with her legendary smile, action hero Tom Cruise and the charming George Clooney have a perfect set of teeth thanks to smaller or bigger dental interventions. World famous singers including Celine Dion, John Bon Jovi and Victoria Beckham also achieved the desired Hollywood smile with the help of excellent dentists.
Success in politics
George Washington
The first president of the United States of America struggled with dental caries and other dental problems in his younger years. Because of his constant problems, he partially lost his teeth and had the remaining ones extracted. However, he needed an intact set of teeth to maintain his confident presence and comprehensible speech. In the 18th century, most of the replacements were made of wood. However, for the president a more modern implant was made. He was given various prostheses made of hippopotamus ivory and bone, as well as human teeth.
Dwight D. Eisenhower
Eisenhower wore crowns on his teeth which fell out numerous times. The former president did not announce that he underwent a dental intervention. One time, an accident occurred while he was eating chicken wings and the detached crown had to be put back to its place with emergency intervention during the night. As his whereabouts were not public, this occasion served as the base of many rumours – according to the boldest thoughts, he took part in a secret UFO meeting.
American presidential elections, 2016
The perfect smile of departing president Barack Obama contributed to his appealing appearance. Obama's set of teeth even makes professional dental specialists wonder. According to some, his smile is the result of attentive dental care, while others claim that dental veneers were put on the surface of his teeth so masterfully that it looks identical to his original set of teeth.
Donald Trump's Hollywood smile is down to his ceramic crown. In his case, there is no doubt what made his teeth so shiny and white.
It's interesting that his opponent, Hillary Clinton also thought that she should keep up with the trend of the perfect teeth. Her slightly discoloured teeth were covered by a dental crowns, so that we cannot find any faults in her smile either.
The smile of actors
Audrey Heapburn
The beautiful actress was one of the brightest movie stars of the 20th century and a fashion idol. She came from a Belgian aristocratic family. Before World War II and after the divorce of her parents, her life continued in the Netherlands with her mother and her siblings. World War II casted a shadow over her childhood and sometimes she had to hide and suffer from deprivation with her family.
After the war, the family moved to England where she studied ballet. In order to be able to finance her studies, she worked as a model and played in several movies.
Her first role in a movie was in 'Roman Holiday' for which she also won the Academy Award.
Besides her numerous roles in movies, she was also a dedicated donator to charities. As a UNICEF Goodwill Ambassador, she drew attention to living conditions in the third world.
The upper teeth of the actress were not perfectly regular. During the filming of 'Roman Holiday', the producers asked Audrey to wear crowns to cover her irregular teeth (she refused to wear crowns for covering the complete set of her upper teeth). She wore removable crowns on her two irregular teeth later, too. It happened various times that her a crown fell out and filming had to be stopped until it was found. Finally, fix crowns were placed on the teeth in question.
Julia Roberts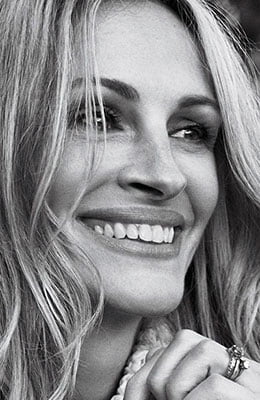 The perfect smile is a trademark of the Oscar-winning actress. As a child she wanted to be a vet, but she finally decided to pursue a career in acting. She became world famous after starring in 'Pretty Woman' as she captivated the audience with her perfect smile.
Julia Roberts is one of those lucky people whose teeth were almost perfect originally. Dentists have come to the conclusion that an attractive smile depends on a perfect set of teeth as well as the relation of the imaginary line connecting the pupillars and the straight line connecting canine teeth. The more parallel these lines and the smaller the distance between them, the more attractive our smile. In case of Julia, this proportion is faultless.
The identical teeth length was achieved by applying dental veneers, which made her smile perfect.
George Clooney
The two-time Oscar-winner and charming actor is familiar to most for seeing him in numerous movies, series and TV advertisements. Before starting his career in acting, he also worked as a shoe shop assistant and insurance agent. He got his first role in a movie in 1978, in the American mini-series called 'Centennial' which consisted of 12 episodes. In 1994, he got a leading role in the well-known hospital series, 'Emergency Room', which made him world famous.
At the beginning of his career, the famous actor was seen on screen without any dental corrections.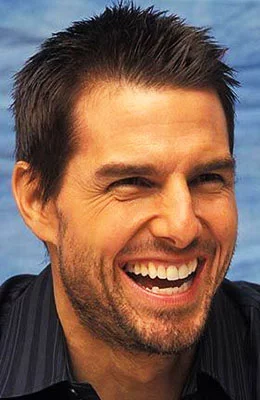 The uneven surface of his teeth was partly caused by his bad habit, grinding his teeth at night. His appealing smile is down to dental veneers which gave George an even tooth surface and perfect appearance.
Tom Cruise
The famous action hero's first role in a movie was in 'Taps' in 1983, in which he portrayed a young soldier apprentice. In 1986, he was the protagonist in of the best known action movies 'Top Gun'.
His acting talent was rewarded by several awards. Also, he was nominated for Oscars three times as the best actor in a leading role.
In recent times, his name has come up in the press mainly due to his role in the scientologist church.
At the beginning of his career, the actor appeared in movies with discoloured, irregular teeth. Thanks to several dental interventions, like orthodontic treatments, crown placements and teeth whitening, he now has an attractive smile.
Confident stage presence
Celine Dion
The world famous singer became widely known in 1988 when she won the Eurovision Song Contest. Her most famous song is the lyrical 'My Heart Will Go On' from the movie 'Titanic', which won the Academy Award in 1997. The Canadian Celine has sold more than 200 million albums all over the world.
The singer with a golden throat has undergone serious changes until she became a real diva. Her radiant smile is down to the crowns placed on her teeth.
John Bon Jovi
The ageless singer's career has relentlessly pushed forward since the formation of his band, Bon Jovi. The band is the most successful representative of the pop-metal genre and their work has been rewarded by numerous awards.
Additionally, John Bon Jovi received a humanitarian award for his charity work.
Similarly to George Clooney, the perfect smile of the rock star is also due to dental veneers.
Victoria Beckham
Victoria became famous thanks to Spice Girls, the successful band of the 1990s. After the break-up of the band, she pursued a career in fashion and business, and has since become a world famous fashion designer and fashion idol.
The shining smile adds to the beauty of the ex-Spice Girl, especially after it became perfect with the help of a orthodontist and ceramic dental veneers.